The truth about ABS plastic components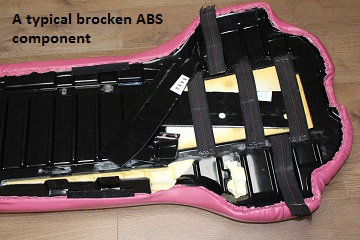 Vinyl-Tech, a no nonsense dental upholstery company who tells its customers the truth about cheaply made ABS plastic components.
​Over the last twenty five years or so,we have been asked many times why we make new upholstery for certain types of dental chairs,whilst we're happy to re-upholstery others.
To be brutally honest the reason is that some chair manufacturers make the foundations of their upholstery from cheap ABS type vacuum formable plastic.
This type of plastic whilst lasting for several years in a few cases, suffers almost without exception from cracking problems. This cracking is the result of two different faults, firstly the ABS components are usually just a few millimetres thick and flex under the weight of the patient, causing them to overstress and crack, in a nutshell they are simply not strong enough to withstand the daily riggers that these components need to go through.
Secondly the vinyl covering is often held on using hundreds of staples, these staple cause fracture lines along those staple lines and the plastic simply falls apart. Whilst this isn't always obvious to the customer it often becomes avident once the old vinyl covering is removed. Simply putting more staples into these already cracked components will ultimately end with the component falling apart, which is not good when you have just paid to have it re-upholstered.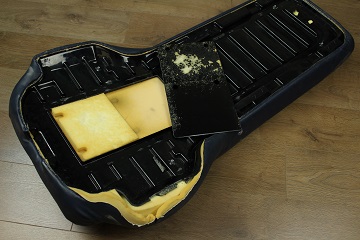 ​Why do some upholstery companies re-upholster these types of chairs if this is true ?
Occasionally customers ask this question and for an answer you really need to ask the people that do it, dental upholstery in some respect is similar to many other trades, in that there are people who are prepared to try and bodge anything up just to bring in the work. Its not really for us to suggest that they should make these from new, clearly some people just don't have the necessary skills to do this.
Its clear to see from (the picture at the top of this page) the type of things you can expect, this seat had been re-upholstered using webbing to try and repair the cracking, the customer ended up purchasing a new set from Vinyl-Tech within weeks of this being done. Re-upholstery becomes a false economy when you end up paying twice.
​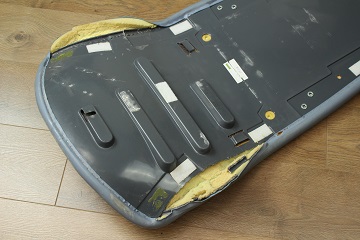 Vinyl-Tech have been producing several new upholstery sets for over twenty years now, usually the type that just have the foam core and no plastic components. However over the last few years we have invested steadily in our business to bring in necessary machinery to produce our own upholstery sets to replace these cheap plastic components.
Using state of the art CNC machinary and adopting the latest ply forming techniques we now produce our own range of upholstery using high quality birch ply as a replacement for ABS plastic. Sourced from sustainable forests in Finland this slow grown quality ply is half an inch thick on all seats and backs, most components are formed using a single half inch thick sheet with no joins, this offers unparalleled strength and the suitability to re-upholster many times if needed.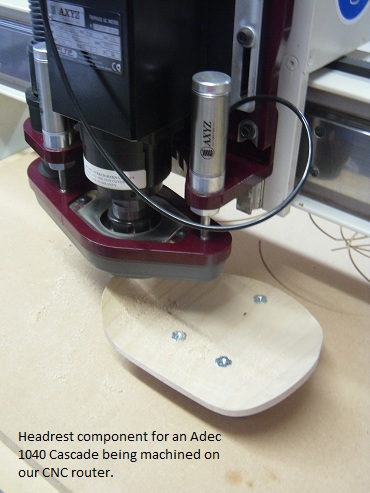 Our 3D CNC machine is used to make highly accurate components, ensuring a perfect fit every time. New models are constantly under development, please take a look at our development page to find out more.