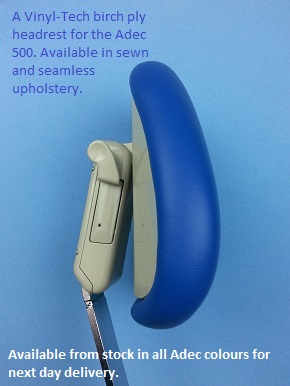 Adec 500 Headrest Upholstery.
Does not include mechanism
Sewn or Seamless version, available in all Adec colours.
As with the other headrest styles we produce, this popular Adec 500 model is moulded from high quality birch ply. Components produced in this way give far greater longevity over plastic components. Many years in the dental upholstery business have taught us this.
Adec 500 seamless version £129.00 + V.A.T
Adec 500 sewn version £131.50​ + V.A.T
All of our headrests come with new stainless steel fixings and are plus VAT where appropriate and £6.75 postage.
Worldwide postage charged at cost.