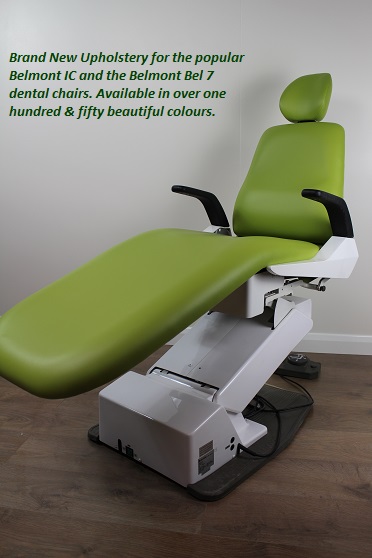 New Upholstery for the Belmont IC and Belmont Bel 7
For over twenty five years now Vinyl-Tech have made the Belmont Bel 7 upholstery entirely from new, we believe there is no point in putting new vinyl fabric on to an old worn out foam interior. However we have now taken this one step further by designing our new Belmont IC seamless upholstery to also fit the original Bel 7 dental chair. This now gives our customers the option of having new traditional sewn upholstery or completely restyling their chair with this new seamless model. These upholstery sets include seat, back and the headrest all from new, as well as a new plastic foot cover which is standard on all of our chairs at no extra cost.
NOTE. The chair in the picture is a Belmont Bel 7 upholstery set on the Belmont IC chair chassis , the headrest for the IC is slightly different to the one pictured.